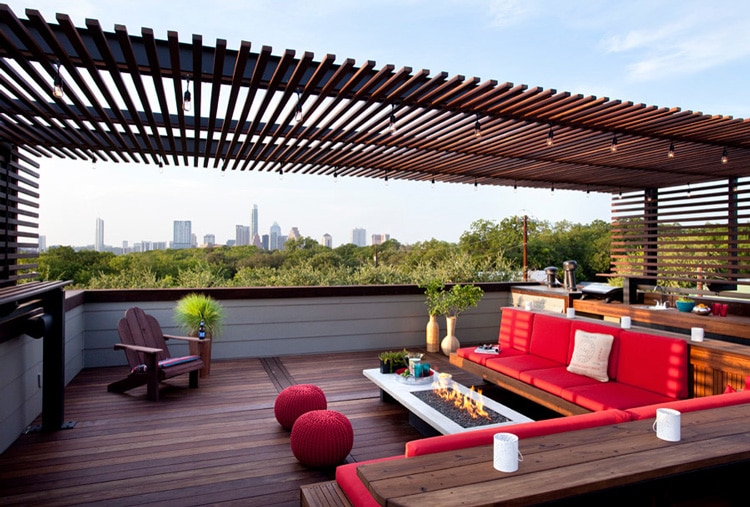 Building a deck is a big project to cross off your outdoor to-do list. Whether you plan to get someone else to do it or to do it yourself, there are a few things to look over before getting to the actual building aspect. You'll need to decide the type of materials, your budget, your timeline, your design, and more! Luckily, we're here to give you the low-down on what type of wood is best for your deck.
When choosing your materials, there are some important things to keep in mind. An outdoor deck is obviously exposed to all the elements of nature, so you'll need a material that can weather all storms. Resistance to moisture is a must! Too much moisture and water can cause wood to rot, mold, warp and more. As well, you want a material that is not susceptible to insects. Some other things to consider might be the cost or availability of the materials. Some woods may be more expensive in certain parts of the country due to where the trees grow. Or if you have a certain design in mind, you'll want to make sure to go with a wood that can be easily stained or naturally looks the way you want.
Below we outline 5 different types of materials and what you need to know about each. So when it's time to pick which wood to use on your own deck, you'll know exactly what is right for you!
Cedar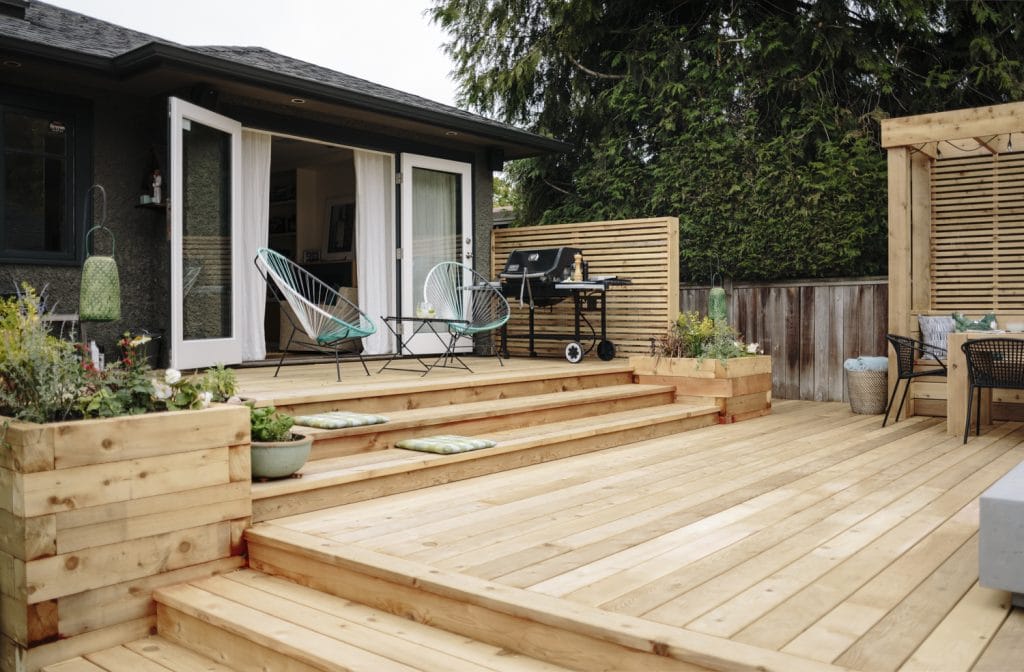 First up is Cedar. Cedar is a popular choice for outdoor decks because of its durability, moisture resistance, easy ability to seal and stain, and affordability. Cedar's moisture content changes and adapts to the atmosphere it's in, allowing it to be used in many different climates. It will not warp, crack, or rot and is naturally resistant to insect infestation. With proper care – like an annual pressure wash – a cedar deck can last about 15-20 years. However, because Cedar is a soft wood, it can be easily dented or scratched.
---
Redwood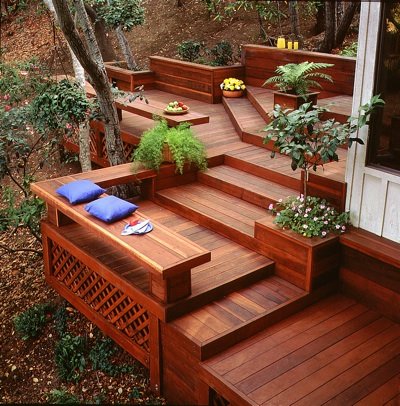 Particularly popular in the Pacific Southwest, Redwood is another good choice in the world of decking. Like Cedar, it's durable and resistant to moisture and insects. The natural oils and tannins do double-duty in redwood – they help resist damage from moisture and insects while also lending to its natural beauty. Redwood is a perfect example of the changing costs we spoke about earlier. Because redwood trees grow in the Pacific Southwest, it is cheaper there and therefore more popular in that region. You can find it across the United States but as you move farther East it becomes more expensive. A well-maintained redwood deck can last almost 30 years. It's recommended to seal your redwood deck to preserve the natural color and protect from prolonged moisture. Too much moisture or prolonged exposure to water can cause the wood to blacken.
---
Pressure Treated Wood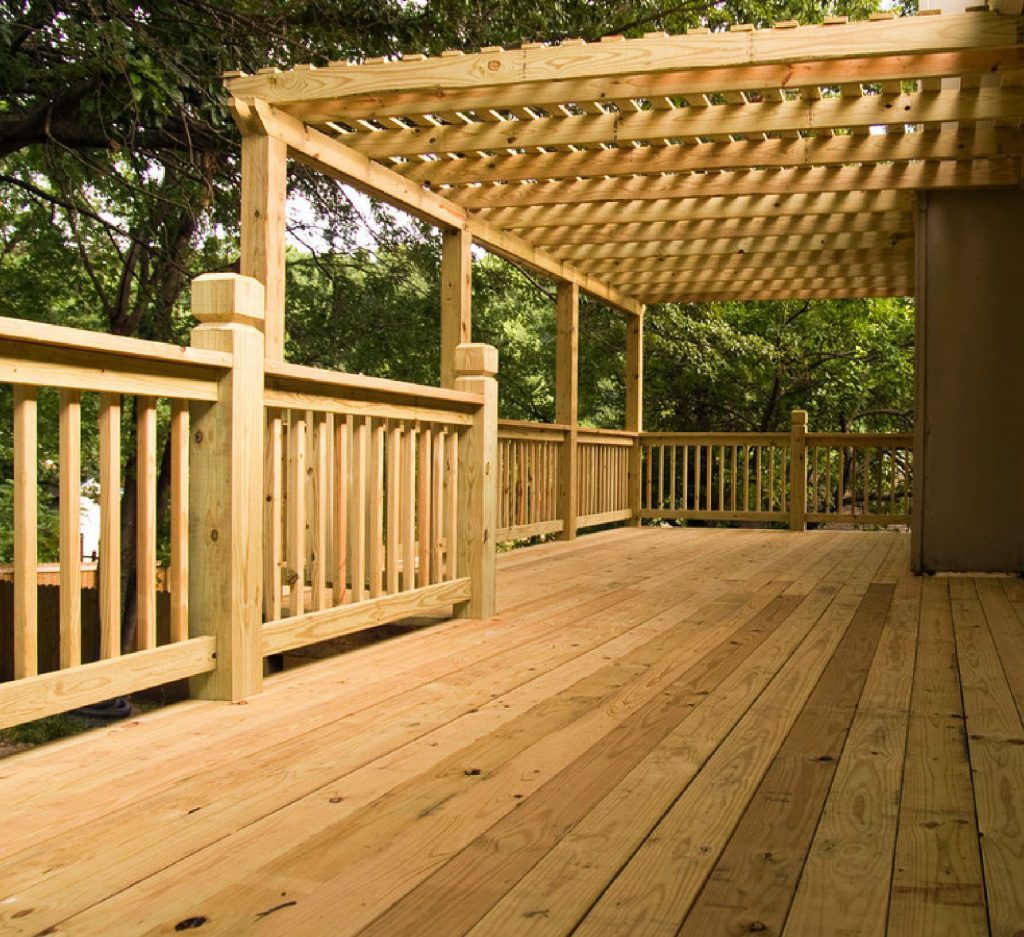 Pressure treated wood is rising in popularity due to the cost effectiveness of the materials. The most common types are Southern Yellow Pine and Douglas Fir. But what does it mean to be pressure treated? Pressure treated wood is when "the manufacturer places a load of lumber into a large chamber and seals it, and then forces waterborne chemicals into the wood under pressure." Or in other words… the wood is being treated with preservative chemicals that will resist rot and insects. If you decide to go with pressure treated wood, you want to find the higher-grade pieces – as the lesser-grade pieces are known to warp easily. Another reason pressure treated wood has become so popular is because of its pale color and ability to stain. However, if you do not seal this wood correctly it can turn green when exposed to the elements. These decks could last decades but require more maintenance than other materials. You may need to replace a board or two every so often due to shrinking, swelling, cracking, etc. While pressure treated wood is a great option, it's often recommended to use it to build your frame and structure and then choose another material for your rails and flooring.
---
Tropical Hardwood
Tropical hardwood is a broad umbrella for a few "exotic" wood types like Mahogany and Ipe. While they are the most expensive materials to use on a deck, they are great because of their extreme and natural resistance to moisture, insects, and warping. These hard woods make maintenance minimal and allow for the deck to last for decades. However, because these woods are so hard, they are very difficult to work with. Their density and weight makes them difficult to maneuver, install, and even secure. Masks are often suggested when dealing with these woods as the dust can be toxic. Though they are difficult to work with, these woods are beautiful and don't require any maintenance and weather to a nice silvery-gray. These are the high-end options of the decking world.
---
Non-wood Materials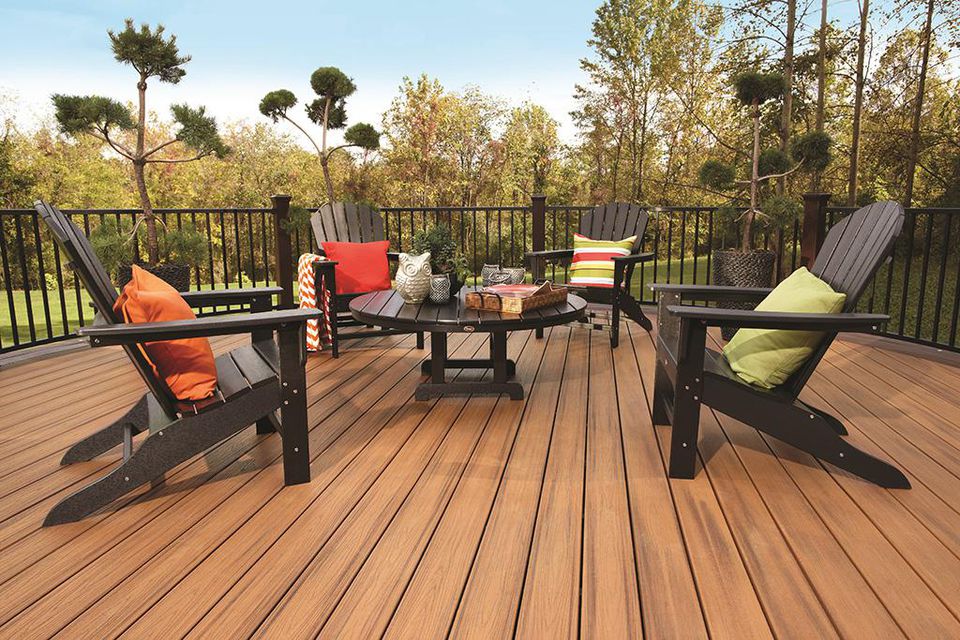 There are also alternative materials like composite wood or PVC. These materials are known for being low-maintenance and highly durable. These decks could last from 20 to 30 years! Composite decking looks like natural wood and is made of recycled wood fibers and plastics. PVC or vinyl decking is a synthetic material that does not include any wood. Both composite and PVC are affordable, available in a variety of styles, and incredibly low maintenance. However, it is important to realize that these decks can get very slippery and are susceptible to mold. If your deck is in a shady area, you may need to power wash once a year.
---
When it comes time to choose your materials, your choice needs to be based on your own personal needs. What's your budget? What's your timeline? What does your dream deck look like? If money isn't an issue, maybe you want to look into a tropical hardwood. If you want something easy and low maintenance, maybe the alternative choices are your go-to. If you can't decide, maybe it's a pressure-treated base and a redwood floor! There are so many choices to be made and we hope these descriptions can ease the mind. Happy building!
The Back Corner is a blog about every corner of the company, written from the back corner of the office.