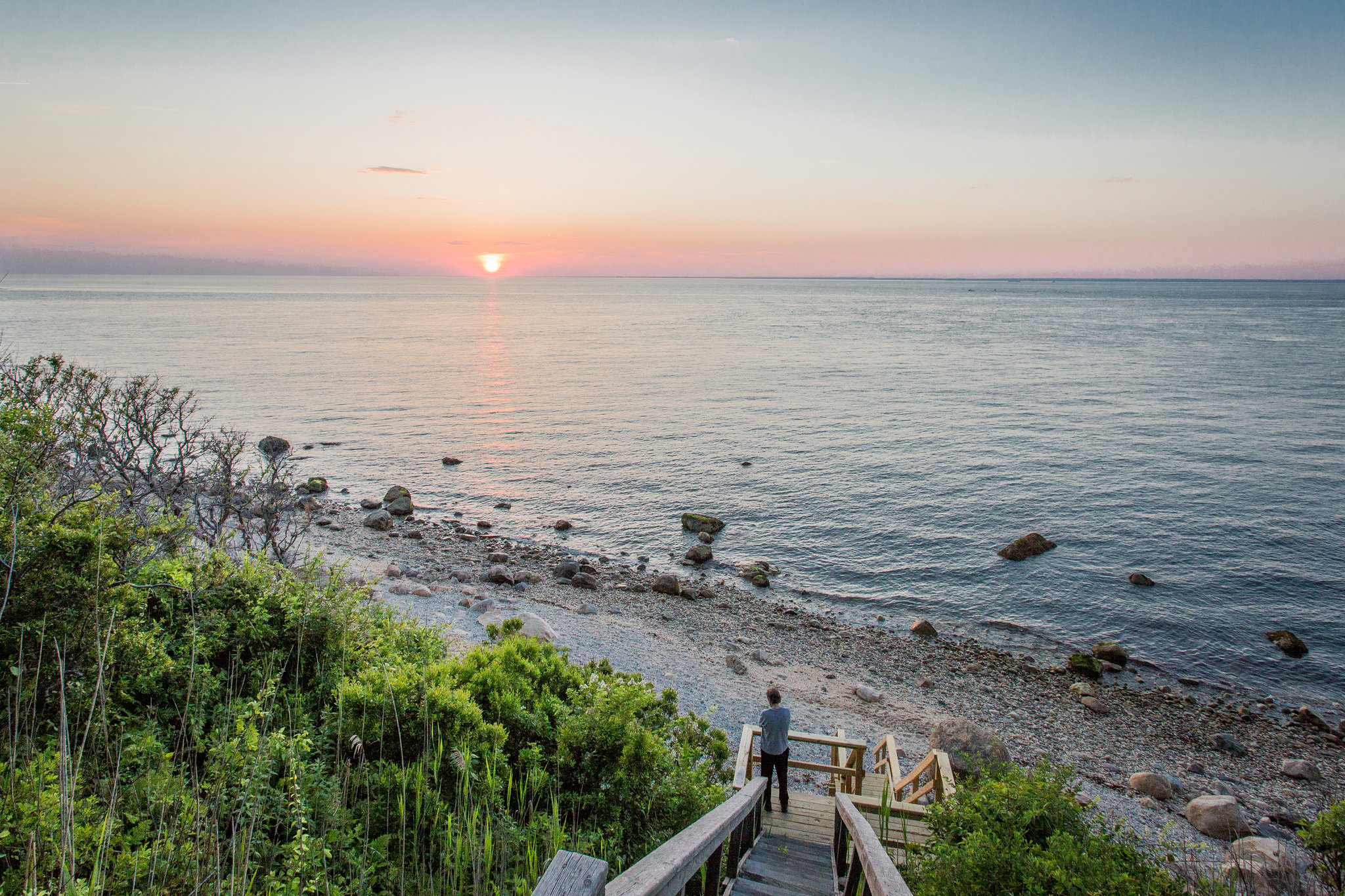 Earlier this summer, we wrote a blog highlighting some of the best things to do in Southampton. With Fall coming full speed ahead, we wanted to explore the other side of the East End – the North Fork. The antithesis to the Hamptons' "glitz and glam", the North Fork is known best for its small-town charm, farmland, vineyards, and all-around peacefulness. With so much to see and do, the North Fork needed a guide of its own and with Autumn approaching, the list only gets bigger! It's a good thing that we have some East End experts amongst our team. We're outlining some of the best places to go on the North Fork, including some tips on how to make the most out of the seasonal activities.
---
TO DO
People love the North Fork because it's like a breath of fresh air, a chance to relax and have some fun. From nature walks to wine tastings, there's something for everyone.
1. Orient Beach State Park
40000 Main Road (Route 25), Orient, NY 11957 | https://parks.ny.gov/parks/orientbeach
Part of the magic of the North Fork is the nature. In fact, many people leave the hustle and bustle of the city to come out East for the peace and quiet. Orient Beach State Park is the perfect place to admire the nature that city-folk are yearning for. Whether you want to sit at the waterfront, admire the rare maritime red cedar forest, or even visit four different lighthouses, this beach literally has it all. That's probably why it was named a National Natural Landmark in 1980. Plus, it's one of the only beaches that does not require a residential parking permit.
SEASONAL TIP: From September 4th – October 11th they only charge the vehicle entrance fee on weekends and holidays!
---
2. Antique Carousel
115 Front Street, Greenport, NY 11944 | http://villageofgreenport.org/carousel-greenport-village.php
The Greenport Carousel is a family favorite. It was originally built in 1920 and used in a travelling amusement group. In the 1950s, Northrop Grumman bought it to be used for company picnics at their Calverton plant. After closing that plant in 1995, Grumman held a contest to donate the carousel to a local community. Former Mayor of Greenport, David Kapell, won the carousel for the village! The carousel is only $2 to ride and you can check out their seasonal schedules here.
---
3. Harbes Family Farm
715 Sound Ave, Mattituck, NY 11952 | https://harbesfamilyfarm.com
For over 30 years, Harbes Family Farm has been providing fun for the whole family. Whether it's the pig races or the hayrides, pumpkin picking or wine tasting, there's something for everyone on this 8-acre farm.
SEASONAL TIP: The Fall is the perfect time to visit Harbes (or a Harbes location – like tier Orchard in Riverhead). Their Jamesport location includes corn mazes, pumpkin picking, and apple cider donuts.
---
4. Breweries/Vineyards
Also known as Long Island Wine Country, the North Fork is home to plenty of vineyards. Each vineyard is unique in both its wine and its scenery! A few to check out are Pindar, Croteaux, Macari, Mattebella Vineyards, and Bedell Cellars. In addition to the wineries, just like the rest of the US, the East End has become home to many craft and micro breweries. Here are a few to stop by – Jamesport Farm Brewery, Greenport Harbor Brewing Co., Riverhead Ciderhouse, and the Long Ireland Beer Company.
---
TO EAT
There are so many options for a great meal on the North Fork. We've outlined 3 spots to satisfy any appetite – a sit-down meal, a quick bite, or a local treat.
5. Claudio's Waterfront
111 Main Street, Greenport, NY 11944 | https://claudios.com/waterfront/
When Manuel Claudio, a sailor, docked in Greenport Harbor in 1854, he knew it was the place for him. A few years later he settled down in the small town and opened a restaurant, Claudio's. More than 150 years later, the restaurant still stands with a few additions! Claudio's on Main, Claudio's Waterfront, Crabby Jerry's, Claudio's Pizza, and The Garden, all live on as Claudio's Legacy. Stop by Claudio's Waterfront for amazing views of the Greenport Harbor and Peconic Bay while enjoying fresh seafood and live music!
---
6. Pizza Rita
55 Middle Road, Mattituck, NY 11952 (OR find the famous Pizza Truck!) | https://www.pizzarita.org/
Pizza Rita is unlike your regular pizza joint. They don't just make regular cheese pies and deliver them to your home. They serve Napoletana-style pies for dine-in or take-out only. BUT, sometimes you may get lucky enough to stumble upon their famous pizza truck. With new specials daily, you're always in store for a treat. You don't want to miss this one!
---
7. Hallock's Cider Mill
1960 Main Road, Laurel, NY 11948 | https://www.facebook.com/Hallocks-Cider-Mill-279060242141965/
Hallock's is a DDMA favorite! Every year around Thanksgiving, Dan DeMarco, CEO & President, stops by Hallock's Cider Mill and brings home mini pies for the whole office. This self-described, "roadside market" is home to local produce and honey, gourmet pies and cookies, farm fresh eggs, and so much more!
SEASONAL TIP: Be sure to ask for any fall favorites they might have. Like these pies!
---
TO STAY
Need more time? Stay over in one of the many motels, bed and breakfasts, boutique hotels, or AirBnBs! Here are two options, one a famous backdrop and the other a newly-renovated oasis.
8. Silver Sands Motel
1400 Silvermere Road, Greenport, NY 11944 | http://www.silversands-motel.com
Silver Sands Motel has been around for more than 60 years. Located in Greenport at the end of a wooded road, Silver Sands is known for its beautiful beach and view of the Peconic Bay. You may also know it from being the backdrop for many photoshoots and music videos! After traveling cross-country and staying in many motels, Florence and Thomas Jurzenia, the original owners, were inspired to open their own! And its now-famous neon sign was inspired by that very trip.
---
9. Sound View
58775 County Road 48, Greenport, NY 11944 | https://soundviewgreenport.com
Another great place to stay is the Sound View. Recently renovated, the Sound View stretches across 14 acres of property. The boutique hotel is home to a private pool and beach, two restaurants, two bars, and many activities like nature walks, bike rides, and yoga!
SEASONAL TIP: Check out their activities calendar for any fall-themed events!
---
We hope you enjoy your North Fork adventure!
The Back Corner is a blog about every corner of the company, written from the back corner of the office.
Sources: Featured Image Source, Modern Luxury Hamptons, Travel + Leisure, New York Magazine, Northforker, Northforker, New York Rental by Owner