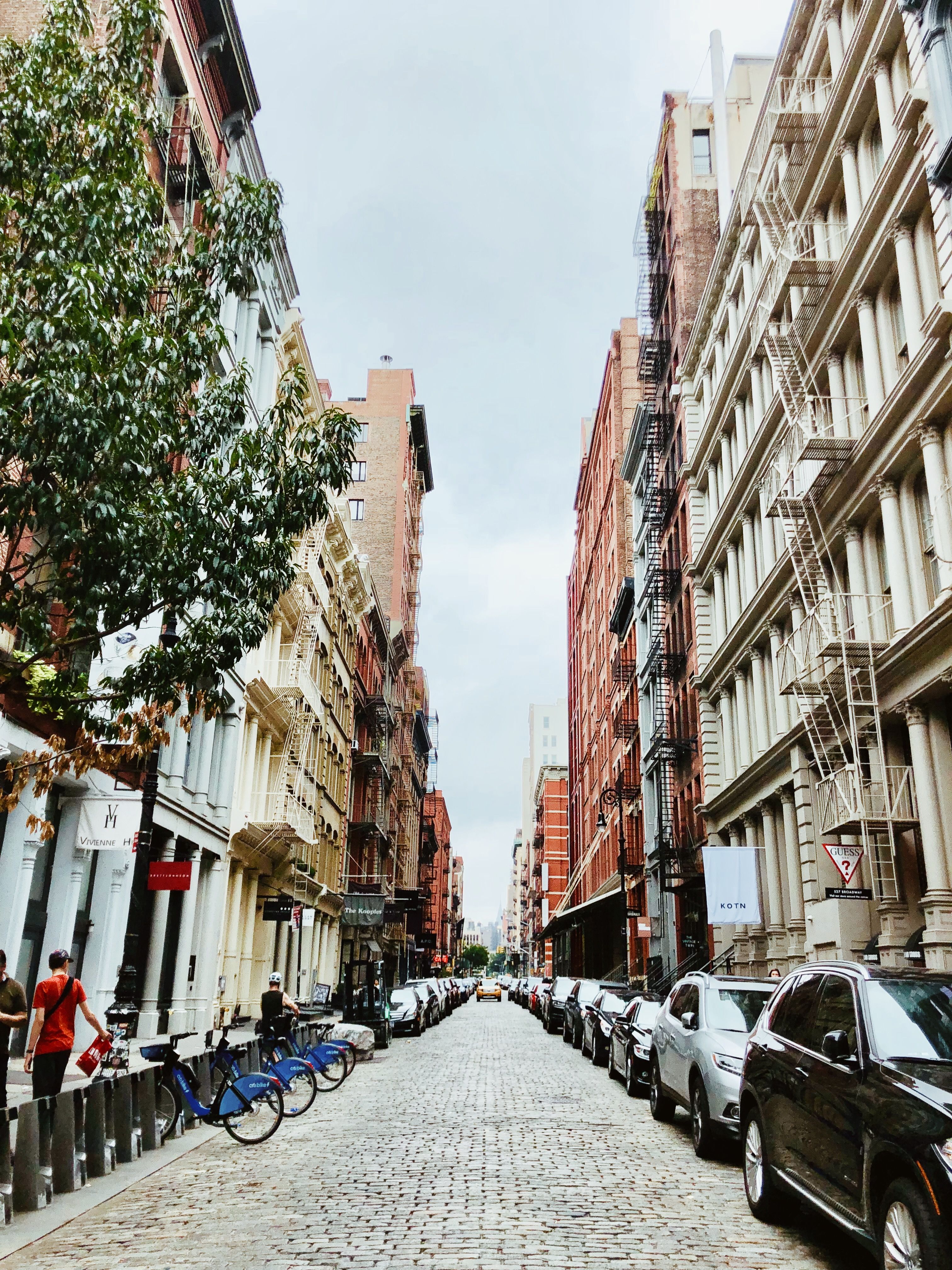 New York City is home to five boroughs, 59 community districts, and hundreds of neighborhoods. SoHo, named for its location South of Houston Street (and an ode to London's West End), has an interesting history dating back to colonial times. What was once green land with rolling hills and streams, post-industrialization SoHo is a completely different place. The neighborhood, "stretching from Houston to Canal Streets between West Broadway and Lafayette Street", switched back and forth between an entertainment hot spot and a manufacturing region. It has been home to both Broadway theaters and cabinet shops. Today, SoHo is known for being a trendy, upscale neighborhood with historic cast-iron buildings, artist lofts, and designer shops.
With that brief history lesson in your back pocket, you are ready to hit the town and start exploring this NYC hot spot. With so much to see in SoHo, we've hand-selected 8 great locations to check out including shops, restaurants, museums, and hotels. Enjoy!
Remember to take caution with these activities and follow all Covid-19 guidelines.
---
---
SHOPPING:
You may recognize these two shopping locations. We were lucky enough to work on both of these stores over the past few years. Now you can stop in to take a look at that purse you've been eyeing AND our hard work at the same time!
1. Alexander McQueen
71 Greene St, New York, NY 10012 | www.alexandermcqueen.com
Alexander McQueen opened a brand new flagship in SoHo this past November. The London-based luxury fashion house is famous for their innovative style, Kate Middleton's wedding dress, and the iconic skull motif found throughout their collections. From the unique entry-way curtain adorned with embroidered insects to the sustainably sourced American walnut and European oak wood, the new space has a "nature-infused aesthetic that defines the entire layout", according to Paper Magazine.
---
2. Louis Vuitton
116 Greene St, New York, NY 10012 |www.us.louisvuitton.com
In 2016, Louis Vuitton renovated its longstanding flagship in SoHo. Known best for its signature brown leather handbags embellished with the iconic LV logo, Louis Vuitton's retail locations sell everything from handbags to perfumes to shoes and ready-to-wear fashion. The renovation of the 10,000 square foot store pays homage to the cast-iron building dating back to the 1880s. Inside you'll see a minimal and modern design featuring carbon fiber shelves, oak floors, and custom finishes made from recycled wood, leather, brass, and stone.
---
DINING:
Sit down for a bite at Cipriani's outdoor patio or grab a pastry to go from Dominique Ansel Bakery.
3. Cipriani Downtown
376 W Broadway, New York, NY 10012 | www.cipriani.com
"Located in the heart of Soho, on West Broadway near Broome Street, this more casual version of Harry Cipriani offers Harry's Bar classics and Italian specialties. Beautifully designed and showcasing various art pieces, the restaurant offers outdoor dining when the weather is agreeable, serving lunch and dinner seven days a week in a party-like atmosphere."
4. Dominique Ansel Bakery
376 W Broadway, New York, NY 10012 | https://www.dominiqueansel.com/
"Dominique opened his celebrated Dominique Ansel Bakery in New York's Soho neighborhood in November 2011. Centered upon the idea of creativity, the Bakery is the birthplace of many of Dominique's signature desserts, including the DKA (Dominique's Kouign Amann), Cookie Shot, Frozen S'mores, Blossoming Hot Chocolate, and the Cronut®."
---
ENTERTAINMENT:
Brighten up your day at the wonderfully pink Museum of IceCream or dip your toes into the world of Japanese art. Either way, you are all set for a good time.
5. Museum of IceCream
558 Broadway, New York, NY 10012 |www.museumoficecream.com
"Museum of Ice Cream has 13 exhibiton spaces with immersive and innovative concepts for all ice cream lovers. Ever-changing with seasonal themes, our fan favorites include the Oh Yeah Room (dessert feast suspended by floating balloons), Celestial Subway (a re-imagination of the NY subway experience), Rainbow Tunnel (tribute to the city's history of gay pride) and of course, the sprinkle pool!"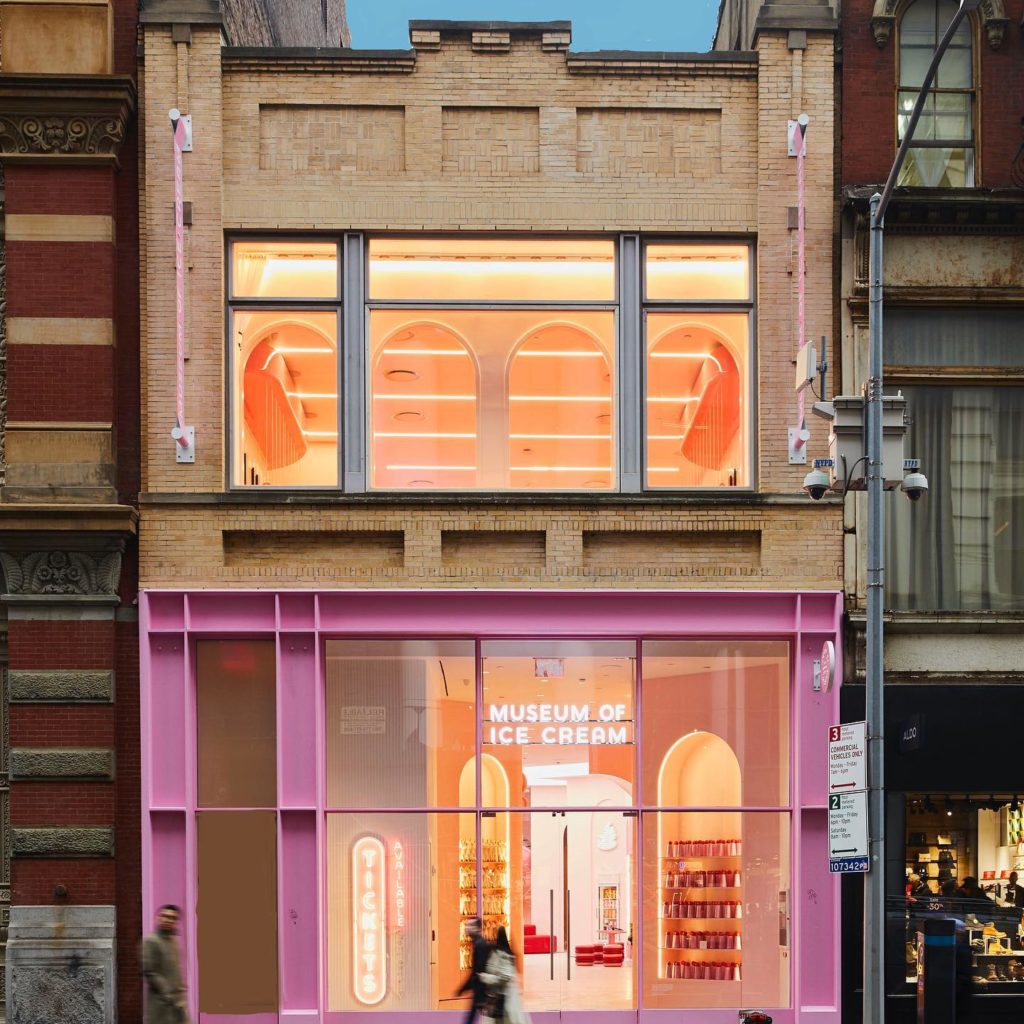 ---
6. NowHere
40 Wooster Street First Floor, New York, NY 10013 | www.nowhere-nyc.com
"NowHere is a new hub for emerging Japanese artists. The focus of our Soho gallery is on creatives who come from Japan to New York City, whether for a visit or to stay. We feature work from a broad spectrum of mediums – digital to fashion, culinary arts to photography, and everything in between. NowHere is dedicated to building community and expanding our artists' networks. We look forward to welcoming new friends from the neighborhood, the city at large, and around the world."
---
REST:
Here to stay? Lay your head in one of these beautiful, luxurious hotels. Whether you choose the hip, vibrant designs of the Crosby Street Hotel or the history of The Mercer, you are guaranteed a good night's sleep and impeccable hospitality.
7. Crosby Street Hotel
79 Crosby St, New York, NY 10012 | www.firmdalehotels.com
"Crosby Street Hotel is situated on a quiet cobbled street in the heart of New York's vibrant SoHo neighbourhood. There are 86 bedrooms and suites over 11 floors. Interior design by Kit Kemp reflects a fresh, contemporary style. There is The Crosby Bar, a private leafy garden, guest drawing room, several stylish private event and meeting rooms, a luxurious 99 seat screening room and fully equipped gym."
---
8. The Mercer
147 Mercer St, New York, NY 10012 | www.mercerhotel.com
"A six-story red-brick Romanesque revival landmark building, new York boutique hotel, The Mercer is the perfect fit for its SoHo locale. The property's exposed brick walls and enclaves, neutral hues and hardwood floors go with the area's cast-iron and glass sidewalks every bit as well as pastrami does with rye. It's a modern New York classic, with a very Manhattan air of effortless cool."
---
We hope you enjoy your SoHo adventure!
The Back Corner is a blog about every corner of the company, written from the back corner of the office.
Sources: Mr. And Mrs. Smith Travel Blog, Vogue, Paper Magazine, Wikipedia, NYC Planning, Architecture Magazine, Fashion Network