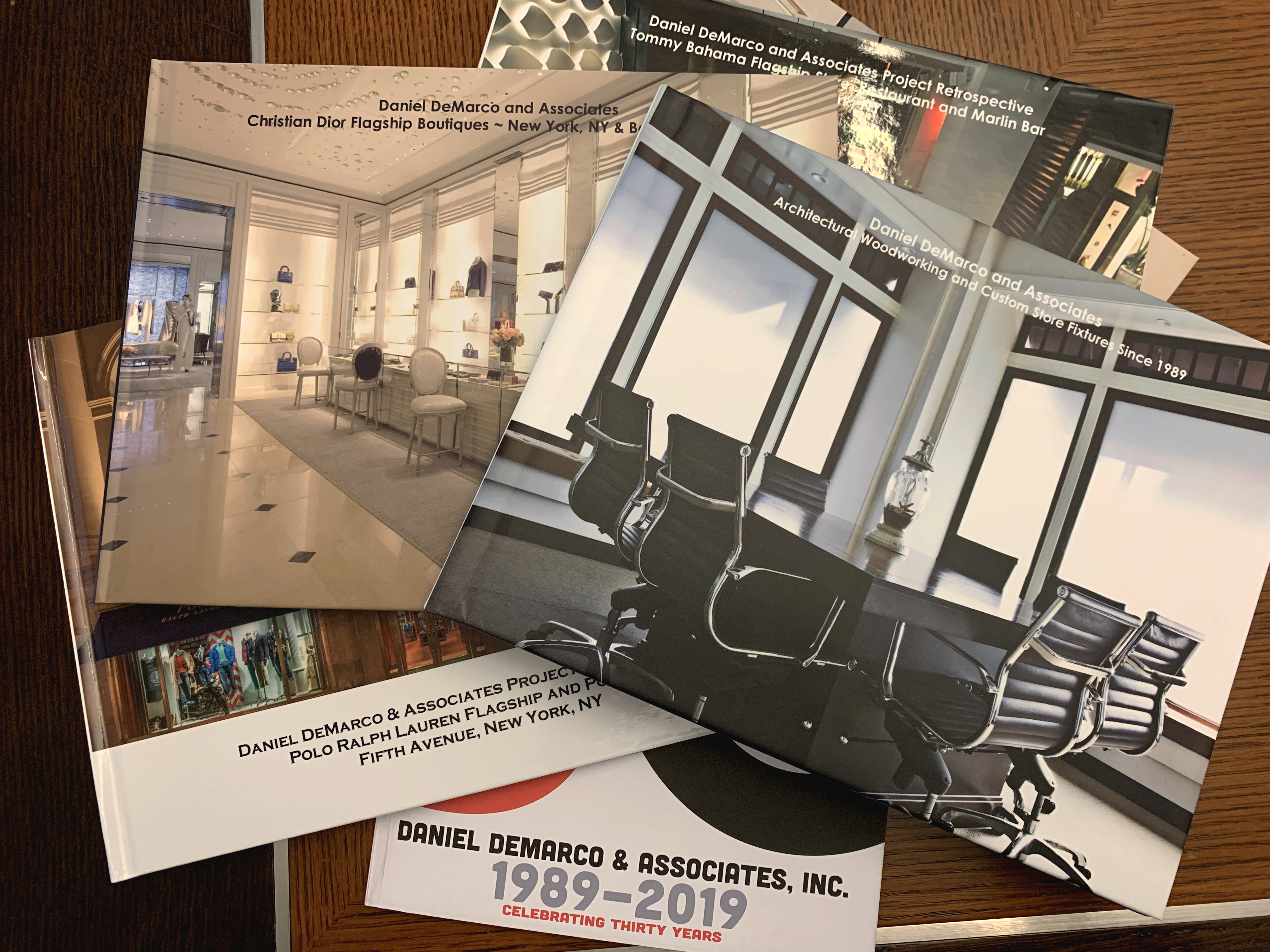 Welcome back to The Back Corner, a blog about every corner of the company, written from the back corner of the office.
August 9th was National Book Lovers' Day. This unofficial holiday encourages people to put down their phones, tablets, or computers and pick up a book. If you were hoping to get a guide to DDMA's favorite books, then you are in luck! Below is a list of ten books that our employees absolutely loved. We've included summaries of the books (but no spoilers!), the Goodreads link (so you can add it to your library) and why we love them (because we know you're curious).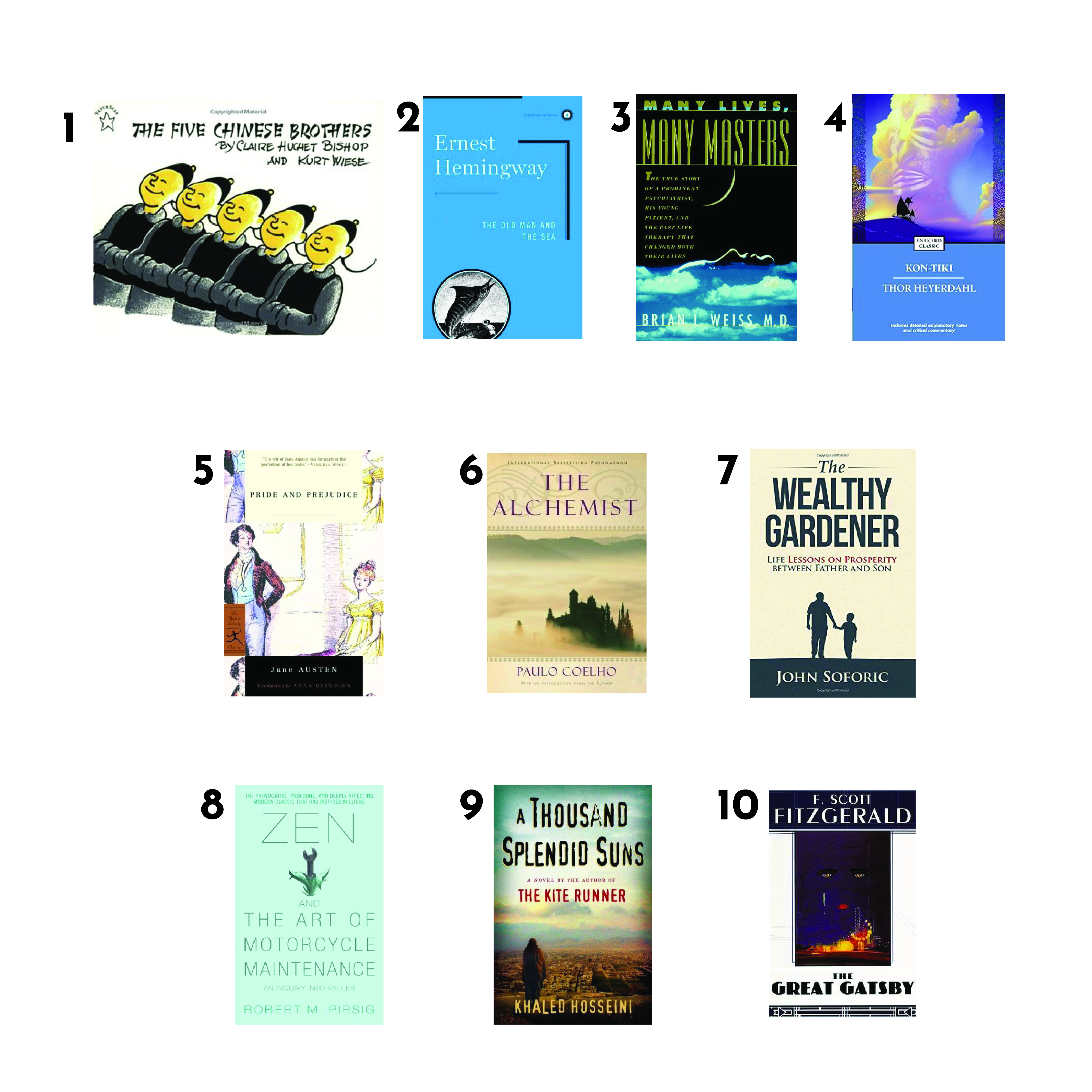 The Five Chinese Brothers by Claire Huchet Bishop

The classic picture-story about five clever brothers, each with a different extraordinary ability, has been in print for over 50 years.
Why we love it: It's a story that gets passed down from generation to generation.

The Old Man and The Sea by Ernest Hemingway

The last novel Ernest Hemingway saw published, The Old Man and the Sea has proved itself to be one of the enduring works of American fiction. It is the story of an old Cuban fisherman and his supreme ordeal: a relentless, agonizing battle with a giant marlin far out in the Gulf Stream. Using the simple, powerful language of a fable, Hemingway takes the timeless themes of courage in the face of defeat and personal triumph won from loss and transforms them into a magnificent twentieth-century classic.
Why we love it: Hemingway wrote in such a way that you had a movie running through your mind while reading.

Many Lives, Many Masters by Brian L. Weiss

The true story of a prominent psychiatrist, his young patient, and the past-life therapy that changed both their lives. As a traditional psychotherapist, Dr. Brian Weiss was astonished and skeptical when one of his patients began recalling past-life traumas that seemed to hold the key to her recurring nightmares and anxiety attacks. His skepticism was eroded, however, when she began to channel messages from the space between lives, which contained remarkable revelations about Dr. Weiss' family and his dead son. Using past-life therapy, he was able to cure the patient and embark on a new, more meaningful phase of his own career.
Why we love it: This book is very thought provoking – some even call it a spiritual awakening!

Kon-Tiki by Thor Heyerdahl

Kon-Tikiis the record of an astonishing adventure — a journey of 4,300 nautical miles across the Pacific Ocean by raft. Intrigued by Polynesian folklore, biologist Thor Heyerdahl suspected that the South Sea Islands had been settled by an ancient race from thousands of miles to the east, led by a mythical hero, Kon-Tiki. He decided to prove his theory by duplicating the legendary voyage. On April 28, 1947, Heyerdahl and five other adventurers sailed from Peru on a balsa log raft. After three months on the open sea, encountering raging storms, whales, and sharks, they sighted land — the Polynesian island of Puka Puka. Translated into sixty-five languages, Kon-Tiki is a classic, inspiring tale of daring and courage — a magnificent saga of men against the sea. Washington Square Press' Enriched Classics present the great works of world literature enhanced for the contemporary reader. This edition of Kon-Tiki has been prepared by an editorial committee headed by Harry Shefter, professor of English at New York University. It includes a foreword by the author, a selection of critical excerpts, notes, an index, and a unique visual essay of the voyage.
Why we love it: This book has been around for so long, that people have read it once, twice and three times! Many people say that it inspired them to be adventurous in their own life; it's also enjoyable to read because it is true.

Pride and Prejudice by Jane Austen

Since its immediate success in 1813, Pride and Prejudice has remained one of the most popular novels in the English language. Jane Austen called this brilliant work "her own darling child" and its vivacious heroine, Elizabeth Bennet, "as delightful a creature as ever appeared in print." The romantic clash between the opinionated Elizabeth and her proud beau, Mr. Darcy, is a splendid performance of civilized sparring. And Jane Austen's radiant wit sparkles as her characters dance a delicate quadrille of flirtation and intrigue, making this book the most superb comedy of manners of Regency England.
Why we love it: There's nothing like a great love story and books from this time period! This story is timeless and continues to be a favorite.

The Alchemist by Paulo Coelho

Paulo Coelho's masterpiece tells the mystical story of Santiago, an Andalusian shepherd boy who yearns to travel in search of a worldly treasure. His quest will lead him to riches far different—and far more satisfying—than he ever imagined. Santiago's journey teaches us about the essential wisdom of listening to our hearts, of recognizing opportunity and learning to read the omens strewn along life's path, and, most importantly, to follow our dreams.
Why we love it: It's all about following your dreams and being able to take that one risk that could make your dreams come true.

The Wealthy Gardener by John Soforic

The Wealthy Gardeneris a money book with a lot of soul because it was written by a financially independent father for his 21-year old son. The father and son met weekly to discuss lessons on prosperity. A parable was used to clarify financial insights and maintain the son's interest. This private education between the father and son lasted two years. These two years culminated in this remarkable book. It is a treasure that you'll want to keep on your desktop as a reference guide, review many times, and refer to your children, nieces, nephews and friends.
Why we love it: This book is beautifully written and explores the intention and purpose of living. It tells wonderful life lessons.

Zen and the Art of Motorcycle Mainenance by Robert M. Pirsig

Robert M. Pirsig's Zen & the Art of Motorcycle Maintenance is an examination of how we live, a meditation on how to live better set around the narration of a summer motorcycle trip across America's Northwest, undertaken by a father & his young son.
Why we love it: It explores philosophy and life's biggest questions through the form of a cross-country motorcycle trip.

The Great Gatsby by F. Scott Fitzgerald

THE GREAT GATSBY, F. Scott Fitzgerald's third book, stands as the supreme achievement of his career. This exemplary novel of the Jazz Age has been acclaimed by generations of readers. The story is of the fabulously wealthy Jay Gatsby and his new love for the beautiful Daisy Buchanan, of lavish parties on Long Island at a time when The New York Times noted "gin was the national drink and sex the national obsession," it is an exquisitely crafted tale of America in the 1920s.
Why we love it: It's a wonderful tale of deception. The writing places you right into the 1920s and leaves you feeling like you can see the green light too.

A Thousand Splendid Suns by Khaled Hosseini

A Thousand Splendid Suns is a breathtaking story set against the volatile events of Afghanistan's last thirty years—from the Soviet invasion to the reign of the Taliban to post-Taliban rebuilding—that puts the violence, fear, hope, and faith of this country in intimate, human terms. It is a tale of two generations of characters brought jarringly together by the tragic sweep of war, where personal lives—the struggle to survive, raise a family, find happiness—are inextricable from the history playing out around them.Propelled by the same storytelling instinct that made The Kite Runner a beloved classic, A Thousand Splendid Suns is at once a remarkable chronicle of three decades of Afghan history and a deeply moving account of family and friendship. It is a striking, heart-wrenching novel of an unforgiving time, an unlikely friendship, and an indestructible love—a stunning accomplishment.
Why we love it: This book is eye-opening much like The Kite Runner. While the author is writing about difficult subjects, his writing makes it simple and easy to understand.
And while we're on the subject of books….. we have a couple of good ones!
DDMA has a book for everything: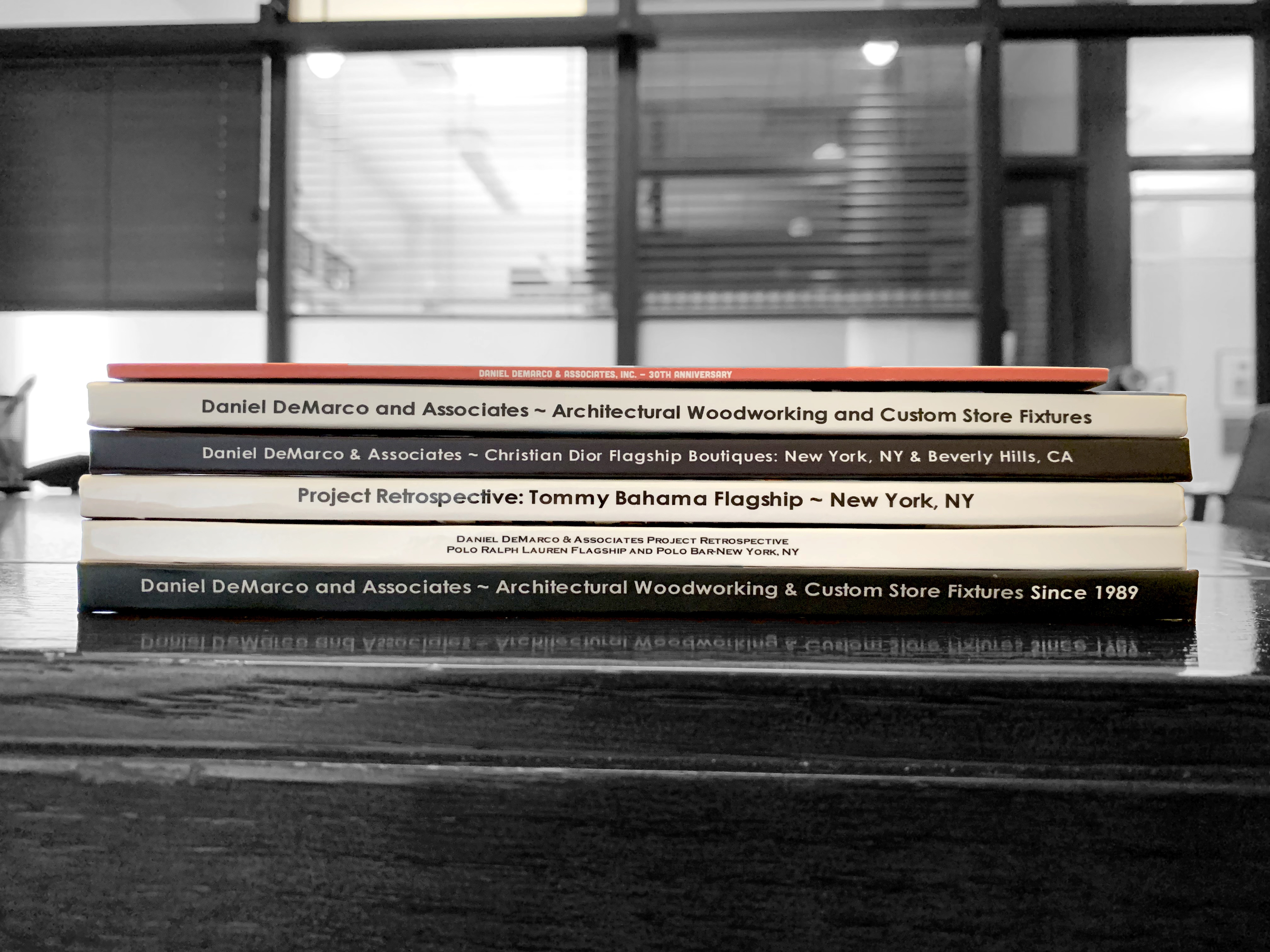 30th Anniversary
A sampling of all our work
Christian Dior Flagship
Tommy BahamaFlagship
Christian Dior Flagship
Custom Fixtures
Interested in seeing one of our books? Email us!
Photo credit to Goodreads. All summaries from Goodreads.
For more information about DDMA, please visit our website, follow us on social media or contact us. We would love to hear from you