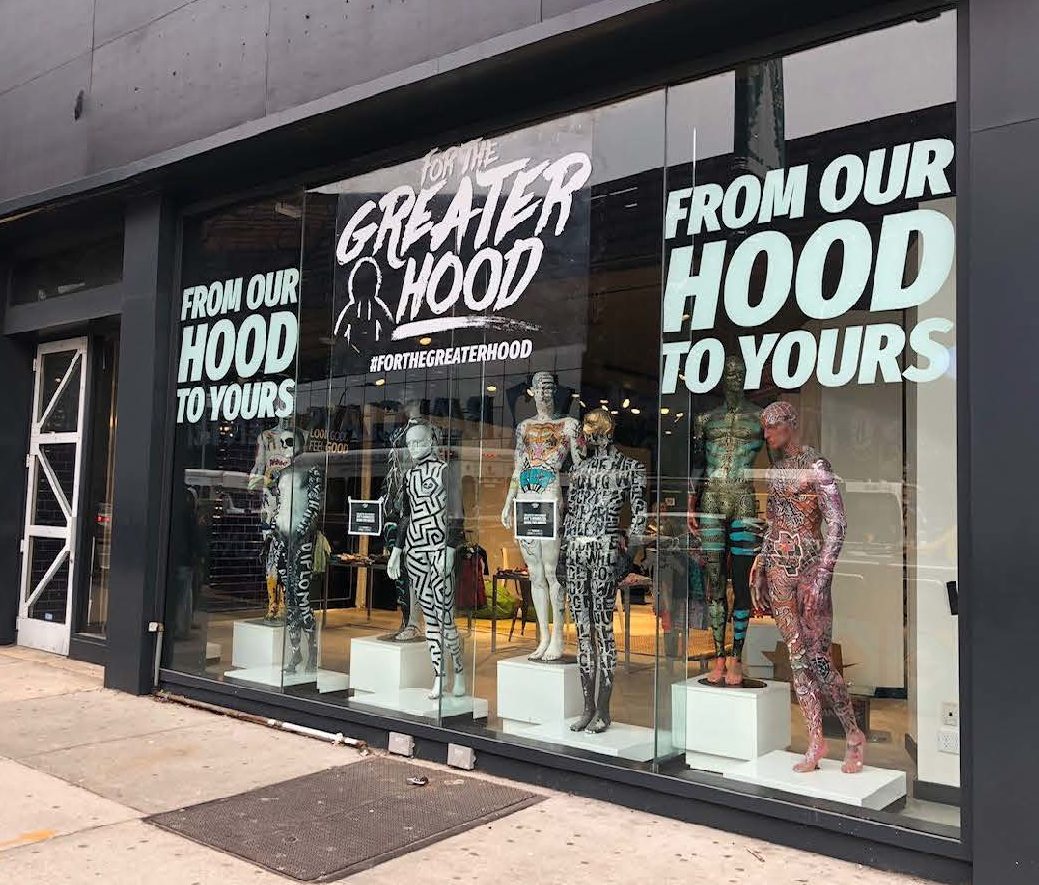 Welcome back to The Back Corner, a blog about every corner of the company, written from the back corner of the office.
In January, Charlie DeTillio – our Senior Vice President of Engineering and Business Development – was contacted by his old friend, Sue McCoy. She was working on an event called "For The Greater Hood" for Hoodies for the Homeless. For The Greater Hood was created by creative agency Six+One – "a purpose driven agency for purpose driven brands". Six+One worked alongside Hoodies for the Homeless, to do something about the 63,000 people sleeping in NYC shelters in the city. They decided to open a pop-up shop in New York City called "For The Greater Hood". It was "a place that recognized the homeless as individuals rather than a statistic or a group." Individuals were given coupons for three items within the shop – things like hoodies, sneakers, jackets, gloves, and more.
FTGH_Master_190130_v2 from Six+One on Vimeo.
January 2019 –
So where does DDMA come in to play? Remember Charlie and Sue? Sue had been tasked with setting up the pop-up shop. Since this was such a quick project, there wasn't much time to prep. They had access to their location starting on January 14th. The store was to be completed by January 17th. On January 9th, she emailed Charlie saying –
I know this is crazy, but I was wondering if you have any items in storage or leftover inventory that we could use for this shop. We want this to really look and feel like a great shopping experience, despite the fact that all of the items are free.
Luckily, we were able to help and we are so happy that we could! Our fixtures, that are no longer being used, are kept in storage. Often, they can't be used again (since everything we make is custom). We got to donate some of those items – like rollouts, ballet bars, and Tstands. Nothing better than giving a fixture a second life! And what better way to be used again than for something much bigger than ourselves. In January this pop-up was open for three days in Brooklyn and over 300 customers attended. Check out the pictures below (provided by Six+One).
March 2019 –
In March, Sue reached out to us again saying that they did a second pop-up in Patterson, NJ, with the materials we had given her prior. This pop-up was one day only and over 500 people attended. We couldn't be happier to be a part of these events, even if it was only by donating some pieces. We are so grateful that Sue thought of us and that we were able to help Sue, Eric Rojas and his team at Six+One, and especially all the individuals that benefited from these pop-up shops. See the photos below for the New Jersey pop-up (once again provided by Six+One).
For more information about DDMA, please visit our website, follow us on social media or contact us. We would love to hear from you.